Trading on Betfair: National Hunt racing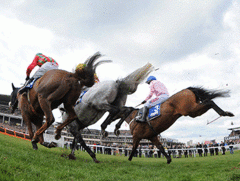 Winter sees the start of the National Hunt season
As we exit the summer turf season and head into winter, racing shifts from flat to National Hunt. Here, Peter Webb from Bet Angel explains the transition and how traders can manage it...
"A lot of the time a little bit of extra knowledge about the owner of the trainer, the jockey etc will give you a decent pointer on which way the price is likely to move."
Download a free copy of Bet Angel today
As the National Hunt season will soon be upon us, it's worth examining how the transition to jumps can affect traders.
The first thing to note this year is thanks to a dry summer and autumn the ground is much firmer than usual. Therefore the field sizes are smaller as a number of horses are not being raced yet due to unfavourable ground conditions. Small field sizes are more likely to trigger cross-matching on the exchange and that makes reading a market much harder.
When a horse begins its jumps campaign only connections will understand the potential it may have. Obviously there will be whispers and these can lead to very strange moves in the market. This is great if you are on the right side of a swing trade.
Race types
A lot of horses will start in a National Hunt flat race, often referred to as a 'bumper'. These horses must be bred by National Hunt sires, it's not permitted for expensive flat-bred types to run in them.
When we look at a card of National Hunt flat horses there will be very little form upon which to make a judgement; in some races the horses will be complete beginners and have no racecourse form whatsoever. These races are often volatile and low-volume. If there is no form to go on, or very little reliable form to go on, serious punters will be reluctant to bet sizable sums. Because of this, any decent-sized order and sometimes a relatively small one, will have a large impact on the market.
The next category to look at is novice and maiden events which amount to the same thing when looking from a trading perspective. Once again there will be very little, if any, form to go on but we have to throw into the mix the flat-bred horse who has a lofty rating. What tends to happen is they are priced quite low, and this is where the battle begins. Some form students will not bet a novice hurdler without seeing it jump a hurdle in public, and when you factor in the other horses crowding as they approach a hurdle it can lead to many expensive failures. It is this lack of proven form that causes the volatility in the market, and the layers will be taking it on due to a lack of proven form whereas certain punters will be lumping on simply because the horse is well bred and has a lofty rating on the flat.
Be warned, these can be very volatile markets.
How can we take advantage of this?
A lot of the time a little bit of extra knowledge about the owner of the trainer, the jockey etc. will give you a decent pointer on which way the price is likely to move. If we take a horse trained by Paul Nicholls and owned by Paul Barber costing £200,000 from the Irish point-to-point field you can be pretty certain it won't be a 10/1 shot! It is more likely to be even money [2.0] or perhaps even odds-on. This price is based on reputation alone and we can use this to our advantage.
Take a look at the market to see if this hotpot is attracting support. If the answer is yes then very often the price will continue in a downward trend, but if there is no support it can move out quite quickly.
In this type of market you will find the momentum of money has a greater impact than in say, a handicap or graded race. Therefore, once we see the money coming there will be a certain element of momentum and we can quickly benefit from this. The same applies to a horse that is not fancied. This can happen to the best horses when they make their racecourse debut as they are unfamiliar with their surroundings. If the layers (and bookmakers) see negative behaviour they will immediately oppose said horse resulting in a drifting price.
If you take the information above and have a quick scan of the races you will quickly identify the novices the maidens and the National Hunt flat races. Once you know the race type you can set out your stall to trade them correctly. I advise looking for larger moves and definitely not scalping! If you cannot see a discernible trend, then my advice is to do nothing...
I'm already looking forward to Cheltenham!
Download a free trial of Bet Angel today!
***
For a selection of Betting Apps for Betfair.com please see the Betfair App Directory.