Trading on Betfair: How to profit from short-term price movements
In his latest piece, Caan Berry explains how you can use software to make profit in a matter of seconds taking advantage of short-term price movements
We all know that the prices prior to the start of an event change frequently, often due to a difference of opinion between the betting public. In the last ten minutes down to the start of a horse race this changes a lot more than other sports mainly because of the number of possible outcomes or runners in any particular given race. 
As I have said in previous posts I specialise in backing and laying these price movements consistently for a profit, sometimes very quickly in a matter of seconds. My aim throughout the day is to win more often than not. This time of year there is racing from around 12:00 to 15:30. In the three-and-a-half hours the racing on results can typically look like this.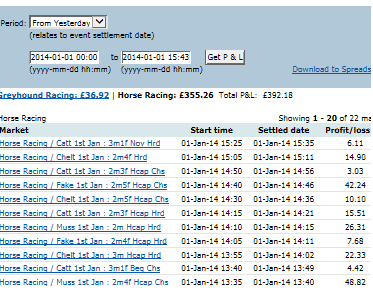 For this kind of short-term trading where prices can move very fast I need to connect to the Betfair exchange via a trading software, personally I use AGT Pro as I consider it the best although there are others available.
This software allows me to look at the overall horse racing market with a lot more information on offer through various charts, graphs and real time price movements showing bets as they are placed.
It updates every 200ms so information is streaming constantly and allows me to place bets with one click of a mouse giving me an advantage over anyone using a slower way of placing bets. If you're serious about shorter term trading of the racing markets it's essential as often the difference between placing a bet at a very good price and a fair price can be a second or two.
This is all very well and good but how do you go about predicting which direction the price will move? 
The direction the price is about to move at any one time is reliant on a range of many different variables. I personally think people like to over complicate this issue as it will always be a question of support versus resistance, some situations may be very different offering variable levels of opportunity although the defining factors are the same.
The first thing to understand is that a book on Betfair's exchange runs very close to 100% when a market is active unlike conventional bookmakers. Betfair have implemented a cross-matching algorithm in the markets to increase the chance of bets being matched, this also ensures the book prices correlate smoothly. For more on this, click here. 
The reason this is so important is it ensures there is an equilibrium between prices consistently in the build-up to the start of a race meaning if there is heavy support backing one of the horses it will undoubtedly have an influence on the alternate prices. How much of an effect will also depend on the support or resistance of the alternate prices. 
As an example if you were to look at the exchange odds for a horse race where there were only three runners they would have to be in 'sync'. If you look at the image below it expresses this with the three prices plotted against each other. (This overview chart is a part of the trading software)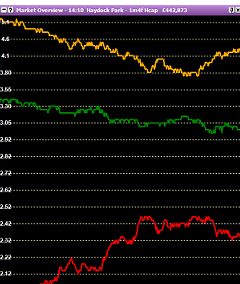 There are many reasons for spotting a potential price move although it's very important to understand this as it's something that always has to be factored into any trading situation on the exchange. 
If you wish to contact me - you can on Twitter: @CaanBerryTrader
***
For a selection of Betting Apps for Betfair.com please see the Betfair App Directory

Discover the latest articles