Trading on Betfair: Starting strategies for sports trading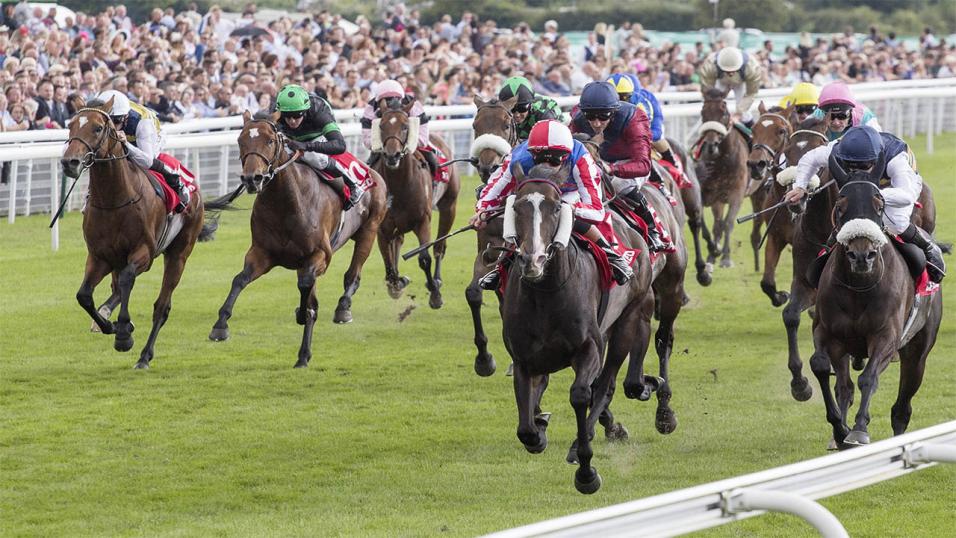 Starting Strategies For Sports Trading
If you're after starting strategies for sports trading on Betfair, look no further. Pro trader Caan Berry gives you the insight...
"There's an infinite amount of ways to trade horse racing. Of course, you can trade whilst the race is in-play or before the race begins"
If you're new to trading on Betfair Exchange, like many others you will likely be looking to adopt an existing trading strategy. Jumping head first into trading is often quite daunting and it can be reassuring to follow a strategy that many others have tried and tested before.
In this article, I'll look to cover a couple of basic sports trading techniques that are most commonly used by new traders. They're simple, easy to follow and can bring just as much profit as some of the more complex setups.
Before we get started, I'd suggest keeping records of all of your trades. Regardless of the strategy you use, records are extremely useful for finding out where you can improve. Figuring out the cause of your losses can be strikingly obvious once they're written on paper.
I'll explain strategies for both football and horse racing as naturally, they are on at different times of the day and week. For example, if you work full-time Monday-Friday, you're going to miss the majority of the racing in the week, especially in the Winter months.
Starting strategies for trading horse racing
There's an infinite amount of ways to trade horse racing. Of course, you can trade while the race is in-play or before the race begins, but in-play isn't for the faint hearted. You can easily get stung by unexpected outcomes like a horse falling at a fence or refusing to set off from the stalls.
Pre-race is often the safest place to start in horse race trading. Two of the most common approaches to trading pre-race are "swing trading" and "scalping".
Scalping requires lots of small trades to build profit over time. If you're new to trading, this can be really tough to achieve. It takes a lot of mental energy to consistently make lots of small and profitable trades. Swing trading is almost the opposite of scalping and partly why it's a great way for new traders to start.
With swing trading, you're going to be backing or laying a horse before the race sets off. As with most horse racing markets, the price will go up and down a number of times before the off. Swing trading aims to profit out of these big swings, hence the name.
Swing Trading Pre-Race
Open up a horse racing market on the Betfair Exchange website that is due to start in about 20 minutes. This will give you enough time to observe the market before the majority of the action happens about 15-10 minutes before the off.
We're going to keep things simple for now and monitor the price of one horse. Open up the price chart and see if there is a rough trend. For example, is the price generally coming down overtime or drifting out? There's no exact science to this and it will become easier to spot in time.
If for example, you notice the horse is being heavily backed in, back the horse with a small stake with the expectation of the price dropping further. In the example below, the horse has been backed from odds of around 6.05/1 to 4.507/2.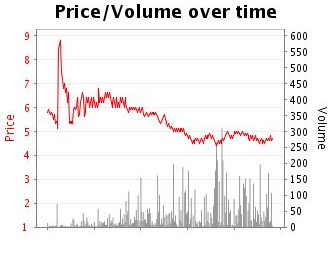 Notice the difference between the chart above and the one below. The chart above has a much clearer trend than the sideways chart below. It's better to avoid charts like the one below if you plan on swing trading.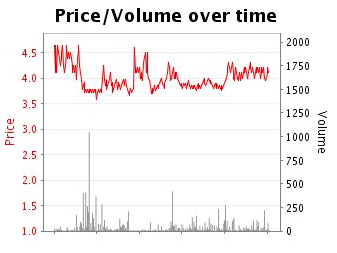 Remember we are trading, not betting. Once the price begins to stop moving in your favoured direction, it's time to exit the trade. The easiest way to do this is by clicking "Cash Out" on the market page. Betfair will automatically calculate your opposing bet so that you have an even book that will spread any profit or loss between all the possible outcomes.
The trick is to trade out when the trend is finished or when it fails to come to fruition. There's generally a lot more to it than this, but the most important point is to not worry about trading out for a loss. Staying in a trade in the hope that it will come back to you will hurt your bank sooner or later.
Starting Strategies For Football
Football is one of the biggest betting markets in existence. It's especially popular in the UK and is commonly the first sport a lot of people bet on.
Like horse racing, there are an infinite amount of ways to trade a football match. You'll most likely have already heard of "laying the draw" or "scalping" markets such as the over/under 2.5 goal market.
In terms of betting, the most popular football markets are match odds. It's popular because it's so simple. You're betting on which team will win, or if the match will finish as a draw.
The strategy I'll explain below will follow on nicely from any match odds betting experience you've had in the past. In essence, we're betting on a team to win but will use the cash out feature on Betfair Exchange to guarantee a profit after just one goal.
Trading The First Goal In Football
As with most football trading strategies, match selection is key.
You'll want to pick a game where you know that the home team has a much greater chance of winning, as the market will react much more favourably to the home team when they score a goal.
Ideally, the home team should be one that frequently makes early attacks. A bad example of this would be Manchester United, who famously tend to score in the last few minutes of "Fergie time".
You'll also want to pick a match that has already had a good amount of money matched and available. Premier League and Championship games are usually a good starting point. This strategy relies on trading out whilst the match is in-play.
To get started, place a back bet on the home team that you believe has a strong chance of winning. Do this before the game begins or in the first 10 minutes, assuming no goal has been scored by then.

Once the home team scores a goal, wait a few seconds and use the Betfair Exchange "Cash Out" feature to guarantee a profit, even if the team goes on to draw or lose.
This strategy brings opportunity because the market believes that the game is essentially over after the first goal. If the favoruite team scores at home, their odds to win will drop dramatically. It's at this point you can cash out and remove any risk from your position.
From time to time, the opposition will score first. It's important to keep calm and exit your position at this point and not hope for an equaliser. Cut your losses short and your trading bank will thank you!
Related:
Matched Betting video courses
Betfair Scalping System: Pro Trader Caan Berry explains what it's all about
How To Trade Your First Football Match
Discover the latest articles
Read past articles