Trading on Betfair: A guide to 'Matched Betting' and beyond
Matched betting allows you to profit on offers on prices around events like the Grand National
Matched betting - where you use the Betfair Exchange to guarantee profit on an enhanced price or special offer at another bookmaker - is increasingly popular. In his latest weekly article, pro trader Caan Berry discusses the pros and cons - and how to take the next step into Exchange trading...
"Matched Betting is a great start, but if you're looking to ramp up the profits you need to look at Exchange trading on Betfair"
What is 'Matched Betting'?

Matched betting is the practice of using free bonuses and special offers, matched against an Exchange price in order to obtain a low-risk profit. It is sometimes referred to as 'bonus arbing'.
The use of bonuses and offers allow the individual to lock in a profit regardless of the betting markets outcome in most cases. Why? Because the value is in the bonus being offered, not the price. Profit comes from a couple of very simple maths calculations.

If this is your first exposure to matched betting, this may be a little confusing right now. Don't worry, I'll now show you exactly how the process works with a short example...
How Does Matched Betting Work?

As you'll know, there are two types of bets on Betfair's Exchange. Back bets and Lay bets. For a full lay betting explanation take a look here.
The easiest way to show you how matched betting works is with an example:
Stage 1:
In order to achieve a free bet of £25 with our hypothetical bookmaker, we have to place a bet of £25. This is known as a 'qualifier'.
The aim of matched betting is make a profit, and so we don't want to lose any money. You can do this by placing the £25 back bet with the hypothetical bookmaker, and laying the very same bet off on the Exchange. The end result being you don't win, but you don't lose on the bet* (providing the Exchange price was the same as the bookmakers).
However, you do now qualify for the free £25 bet.
At this point, the temptation for most is to have a free £25 bet. That's up to you, personally, I'd advise taking it to the next stage. Guaranteed profit.

Stage 2:

So, you have a free bet of £25. Let's turn it into profit.
You return to this hypothetical bookmaker, claim the free bet and find another sporting event that has similar or the same odds as Betfair's Exchange (far from impossible).
All you need to do now is place the free £25 back bet, and lay a portion of it off on the Exchange. This means that; If the bet wins or loses, you make a small profit. You just have to calculate the stakes used, depending on the betting prices offered.
Let's look at some numbers, assuming you have already obtained the free £25 bet:
Hypothetical Bookmaker: 3.02/1 for Chelsea to back.
Exchange: 3.02/1 to lay.
1. You back Chelsea at 3.02/1 for the free bet.
2. You lay Chelsea at 3.02/1 for £16.95 (you'll see why in a moment).
If Chelsea win, you win £50 with the bookmaker but lose £33.90 with the exchange.
If Chelsea lose, you lose your free bet but win £16.10 (after commission is deducted).
Once you subtract the £33.90 from the £50 win you can see you are left with a profit of £16.10.
So no matter what the outcome is, matched betting just allowed you to turn a free £25 bet into £16.10 profit. To make things easier you may want to use a matched betting calculator.
Simply, that's how matched betting works.
Remember: before doing this, always check the terms of any bonus as they may vary.
Why Exchange Trading is Next...

There's no denying, matched betting is a useful way of making some extra change. But the offers don't necessarily last forever, and the bonuses aren't exactly massive. So what next?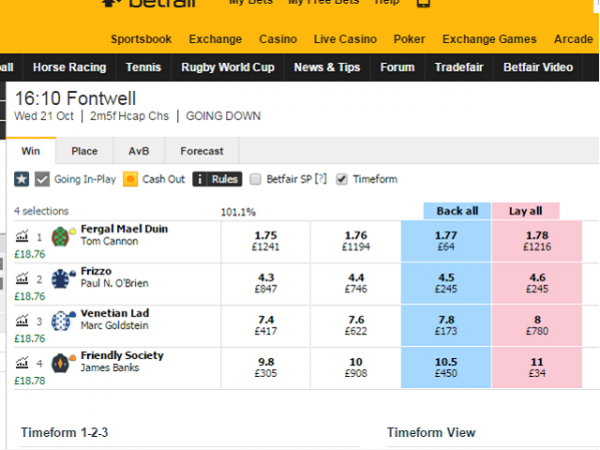 Exchange trading is the most natural progression. Why? Because if you've already been matched betting, you'll already understand the basic concepts of backing, laying and cashing-out. You may have even noticed some routine-behaviours within the market over time.
The main differences between matched betting and Exchange trading being; everything is done on the Exchange, there are no bonuses but you can make a profit from the change in price. Trading includes more risk depending on your level of self-control, but the potential rewards are huge in comparison to matched betting.
I wouldn't ever recommend taking unnecessary risks though. A commonly trodden path is for matched bettors to build up a risk-free trading balance before progressing into Betfair trading fully.
The earning potential isn't the only reason Exchange trading is next on the list for those matched betting though...
Added Benefits Over Matched Betting

Exchange trading has several benefits that matched betting does not, mainly the lack of limitations. Here are a just a few:
• No account closures - Betfair won't close your exchange account for winning. There is of course commission to pay on winnings, but unlike bookmakers they won't close your account for winning.
• Bonuses not required - in the matched betting example above it's clear to see how reliant users are on bonuses and free bets. Trading doesn't rely on any, it's all about price.
• Scaling up - matched betting is limited to the amount and size of bonuses. With Exchange trading, providing you have a winning edge, it's possible to increase the returns once you reach profitability.
• More opportunity - As long as there's a betting market on Betfairs Exchange, you can trade it in one way or another. Some bring more potential than others, but you aren't limited by terms and conditions as to when and where you can place your bets, much like matched betting.
• Settlement - In most cases exchange markets are settled within 20-30 minutes of the even finishing. You won't need to transfer money between accounts or wait for roll-over periods to end. Everything is done under one account.
Now it's clear why matched betting is the ideal stepping-stone into trading, let's take a look at five actionable steps towards profiting via Exchange trading...
Getting Started: 5 Steps...

If this is your first exposure to the possibilities of trading, check out the following:
1. Understanding - First and foremost, learning to trade starts with understanding. Much like matched betting, it's worth putting in the time to absorb as much information as possible and research a few articles on how you can get started with Exchange trading. Maybe check out this article about Betfair trading for beginners here. Experienced matched bettors will have and advantage here already.

2. Software Apps - Matched betting relies on the use of tools like the calculator above. Of course you could do it manually, but mistakes often creep in. Plus its instantaneous to use the right tools. Exchange trading is much the same, except there's a huge amount of additional information on offer. I'd highly recommend using a trading tool listed on Betfairs Apps Directory.
3. Test a strategy - Depending on your interests, you'll need a strategy that fits. For example if you're interested in trading football, it may be best to research laying the draw. Horse racing would be totally different, maybe backing to lay off in running, or scalping before the start.
4. Observe your preferred markets - Many skip this, don't. Before putting a penny of your own money down, take a look at the betting markets you wish to trade. There's no value in going in blind. Quite literally, it's a gamble. You can only absorb so much theory, viewing a few live situations an analysing them yourself is a wise move.
5. Rinse and repeat - Don't expect to get it right straight away. Exchange trading is trickier than matched betting. The potential returns are huge in comparison, but becoming successful in trading alone is harder. The key to trading successfully is to 'test and adjust' regularly. Fail quickly and on a smaller scale, before increasing activity once you find what works for you.

Differences in potential earnings...
Learning to trade is often a longer road than driving profits from matched betting. No doubt about it. One of the most regularly asked questions is:
How much can you earn from Betfair trading vs Matched Betting?
The answer to this question can fluctuate massively. Some results aren't realistically achievable for everyone either.
It's reported that matched betting can produce several hundred pounds a month for those who invest enough time. On the other hand, be it somewhat more difficult, successful traders are not so limited.
You can see a few example trades on the Betfair YouTube channel.
You can start Matched Betting for FREE at profitrush.com
----------------------------------
*lay bets are subject to exchange commission, typically 5%.
Related:
Starting out Matched Betting with Profit Rush
Betfair Exchange: Trading for Beginners
Backing to Lay In-Running
Scalping System: Expert Guide
Find out more about Caan and how he started here
Discover the latest articles
Read past articles