Exchange Trading: Weight of Money Indicator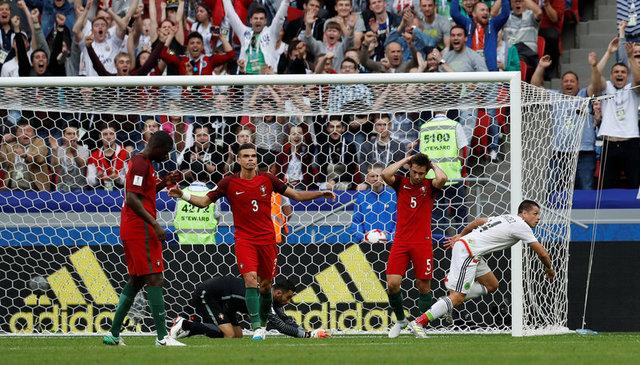 The weight indicator within Betfair's trading apps help you to see market sentiment clearly
Do you understand how Betfair's weight of money indicator works? See how pro traders use it here...
"the weight of money indicator is used to give a quick overview of the amount of money waiting to be matched on either side of the book"
Weight of money indicators are usually found at the top of a trading ladder on Betfair trading platforms.
In essence, the weight of money indicator is used to give a quick overview of the amount of money waiting to be matched on either side of the book. This information is usually given as a percentage such as 75% to the backers and 25% to the layers. This suggests that the market is more interested in backing the selection than laying it it.
On some Betfair apps, you can also display the weight of money indicator in monetary form such as £75 / £25.
How WOM is Calculated?
A common mistake that many new traders make is that they assume weight of money is a summary of all the orders in the market. Luckily, that isn't true.
If this were the case, WOM would be almost meaningless as you will always find people placing huge orders way outside of the current trading range. For example in live horse racing markets, you'll often see a lot of money waiting to be matched at 1.011/100.
Only the closest 3 available prices on either side of the book are considered when calculating weight of money. Here's the formula with an example below:
Monetary value of next three lay prices / (Monetary value of next three back prices + Monetary value of next three lay prices).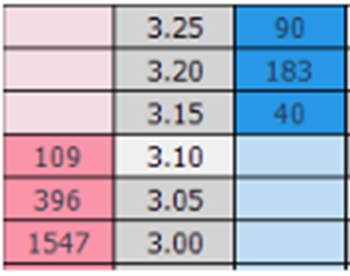 - Best three back orders total: 313
- Best three lay orders total: 2052
- 2052 / (313 + 2152) = 0.86
This gives us a WOM of 86% / 14% which is very much a layers market. You'll often see this at crossover points such as 2.001/1, 3.002/1 and 4.003/1 as potential reward is higher for each move upwards in price.
How To Use Weight Of Money
As with any Betfair trading indicator, it just makes up a small part of a larger setup.
All in all, weight of money only gives a quick summary of the best three prices and as we've just mentioned, it can be easily skewed. The indicator can give erratic readings in markets that are volatile or have low liquidity. For this reason, it's best to use WOM in a long term view of the market.
By this, I don't mean that WOM can predict what the price will be in 5 minutes time, but that you shouldn't read too much into it's readings during volatile situations. For example, if WOM spikes at 90% for a second, it's likely that the market is just lacking liquidity. It certainly doesn't mean that 90% of the market wants to back a certain horse.
However, if the fill rate has been increasing and the WOM has consistently sat around 75% (or somewhere thereabouts), it may suggest that the flow of money is heavily favouring a certain side of the book. Particularly if that's in the final countdown to post time.
Is It Really Necessary?
Whilst WOM can certainly be helpful, it's not always necessary. The same can be said for almost any indicator. After all, many bettors and traders still manage to turn a profit without any technical analysis whatsoever.
Too many new traders get caught up in the idea that an extra indicator will be the key to their trading success.
Unfortunately, trading isn't that easy.
I'd advise any new trader to keep their trading setup as simple as possible and focus on their mindset rather the fancy gadgets and software. Once you've got a hang of things, you can start to introduce indicators if they are genuinely helpful to your strategy. If they're not essential, they're almost always going to cause more harm than good.
Visual Clues: Traded WOM
With all the technology available at our fingertips, it seems silly not to use all the indicators consistently.
However, with a little bit of focus and a some practise, things can become a lot clearer by simply paying attention to the trading ladder. After a while, it's possible to get a feel for which way the market is going. Instinctively noticing when money that doesn't want matching is being pulled from the market on purpose, skewing the WOM percentages. Something that is a lot harder for automated programs to work against.
Money that has been matched is always of far more interest. Because if it's been matched, action has taken place, rather than unmatched money that only suggests 'intent'. A bit like the difference between doing something and saying you'll do something. The former will always be of more important.
Also by developing the skill of watching the markets you'll also have the added bonus of judging the market outside of the best three available prices as you can browse through the whole ladder, should you want to.
Sometimes indicators such as WOM can actually be a detriment to your trading, distracting you from what is really happening in the market. You may have even noticed that the arrival of large sums of money triggers automated activity. Sometimes, simplicity and practice is just as useful as having those fancy indicators.
You can see more from Caan here.

--------------------------------

Related Links:
Betfair Scalping System: Pro trader explains
Betfair Exchange: Trading for beginners
Exchange trading: Why there's more chance of winning
***
For a selection of Betting Apps for Betfair.com please see the Betfair App Directory.

Discover the latest articles
Read past articles