Caan Berry: My life as a Betfair trader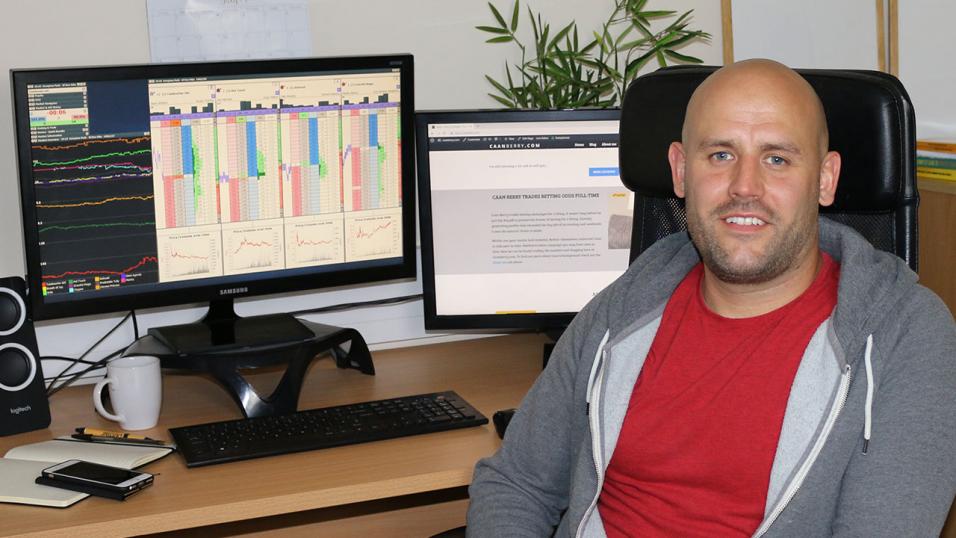 Where the magic happens: Caan in his office
Caan Berry talks the ins and outs of his time trading on the Betfair Exchange, how he got started and his golden rules of successful trading...
"There's no value in being a fanatic. Winners don't simply predict the future, they play the probabilities and extract value, I missed that early on."
How did you get started with Betfair?
I was first attracted to the Betfair Exchange in 2007. With the exchange model offering better odds to end users it was a no-brainer.
After a short period of recreational betting, following horses and losing money I realised you could also trade price movement for a profit. From that point I was hooked, more-so once I realised just how much money could be made.
Fast-forward a couple of years and my sights were firmly set on trading Betfair for a living. It was more than just the increased income though, having the flexibility and freedom to live life on my terms was what sucked me in.
What sports do you trade now with Betfair? Why do you choose these sports?
Horse racing and tennis, with a preference for the first - mainly because I'm a Betfair scalper.
Initially, I started out with horse racing because I liked the sport. However, I soon realised it held a lot of trading opportunity as prices are more subjective than other sports. Plus there's a lot of races available to trade each day.
Tennis is a different beast so I specifically target some situations.
What mistakes did you make early on that you learnt the most from?
I've made them all, but the biggest two would have to be thinking like a sports fan rather than a financial trader and executing trades poorly.
There's no value in being a fanatic. Winners don't simply predict the future, they play the probabilities and extract value, I missed that early on.
I also learnt that executing trades in the right way makes a huge difference in profits. Alternatively, sloppy execution is just throwing money away.
What rules do you set yourself in your trading activity?
I have a strict start-up process that I won't break. Typically, I'm a Betfair scalper so it keeps me trading at the right time-frames. Trading too early leads to additional risk.
Staking is another area I have firm rules in. Betting too big is the easiest way to over-expose yourself - you can only trade as the market permits!
What does a typical day of trading look like for you?
The racing schedule shifts slightly between the Flat and National Hunt seasons but typically I'll be up and into the office for 9 am. From there until the racing starts is my flexi-time, a fair amount is usually spent checking the day's opportunities, market sentiment, traded volumes and anything else noteworthy.
Once the racing starts I'll have my head in the screens for a while before finishing off around 5.30pm. In the summer months, it can be a fair bit later but as I said previously, I like to keep things flexible. It's the best part about trading Betfair for a living!
What is your most memorable trading market in your Betfair history?
There's no question, Kauto Star's final appearance at Cheltenham. I think anyone who touched horse racing was emotionally charged for that one. It certainly showed in the betting market.
In the final minutes to post huge sums of money ploughed into the market shortening the price, making it a very profitable trade.
When did you move your Betfair activity from the website to a vendor app and why?
I don't quite recall when I first used the Geeks Toy software, although I do remember finding it because someone recommended it on a racing forum.
I began using it for the speed of bet placement. It was tried and tested as the fastest Betfair trading software around so the decision was easy for me. They'd just pioneered the first multi-column ladder interface too so it was an interesting alternative to the website.
Have you automated any of your betting activity?
Automation isn't my expertise, although I've been fortunate enough to have some successful automation given to me in the past. I'm grateful, but it only made a couple of hundred quid a month. For the work involved and the developers, I'd be competing against I decided to invest my time elsewhere.
What advice would you give someone starting out in Betfair trading?
There are so many things that could be said, so I'll break it down into three short points:
1. Limitations & Characteristics: realise you need to learn about betting market characteristics and human bias. To make money you have to find value in the current moment, not predict what is going to happen. They are very different.
2. Specialise First: Typically, those starting out jump from one strategy and sport to the next. This shotgun approach is completely ineffective. Decide on your preferred area of focus and work at it until you are fully informed.
3. Plan Realistically: accept it's not likely you'll make a big profit today, tomorrow or even next week. Plan out the path and take it one step at a time. This is the shortest path, time and persistence will get you where you want.
Failing to do any of those three is likely to delay any success you will find.
Are there any other resources people should seek out if they want to know more?
Certainly, I've been blogging at caanberry.com for several years now so there's a lot of useful content on there for free. Alternatively, there's a comprehensive book for beginners on Amazon called Betfair Trading Made Simple.
Discover the latest articles
Read past articles