Trading on Betfair: Creating systems for all-weather racing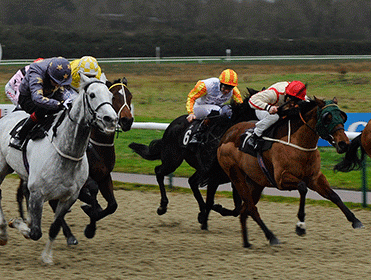 When you see horses and sand you are watching all-weather racing
Although all-weather racing is regarded by some as "low quality" you can still turn a profit from it and the small number of tracks using man-made surfaces make it ideal for testing new systems, says Malcolm Pett of Grey Horse Bot...
"Even if you decided to concentrate on one course then you won't have long to wait to try out your ideas."
All-weather (normally shortened to AW) is the term given to any course that has a sand surface.
There are four in the UK: Kempton, Lingfield, Southwell and Wolverhampton, and one in Ireland
Dundalk.
Although they are all classed as sand there are actually two types of surfaces Polytrack and Fibresand.
Nearly all the courses use Polytrack except Southwell which uses Fibresand.
Fibresand is very much like the American AW surface and probably goes some way to explaining why horses bred and trained in the US, do well when they come over and race at Southwell.
Although most courses use Polytrack there are still differences so you shouldn't presume that a system that works on one, will automatically work on all. So, when I am asked... "I want to create a system, where should I start?.." I often suggest AW.
Here are some of the reasons for doing so...
1.There are only five courses you need to learn about.
2. There are AW races every week so you don't have to wait long to test a system. Some turf courses don't run for months.
3. Most of the time the distances are quite short.
4. The number of runners tends to be low (averagely 8 to 10).
5. Although there are differences in the surfaces they do all tend to run at "standard" most of the time.
Even if you decided to concentrate on one course then you won't have long to wait to try out your ideas.
The good thing about AW racing is there are plenty of opportunities to back a horse to win or lay a horse to lose. In fact many would argue that you have a better chance of creating a lay system because of the quality of racing. But you shouldn't totally rule out backing because some courses lend themselves to backing the favourite.
*Here are a few ideas you may want to look at.
Lingfield: Back. Handicap course winners who are favourite.
Kempton: Back. Handicap course and distance winners who are favourite.
Southwell: Back. USA 5 Year Olds 1st or 2nd in the betting.
Wolverhampton: Back Handicap 5 Year Old Favourites that came 2, 3, 4 or 5th on their last run. 
Dundalk: Back. Handicap Favourites who are Course or distance winners.
(*Statistics from races between 11/10/2013 and 28/03/2014)
You may even want to follow along with our own trials which can be found on the Article section of the Grey Horse Bot website.
We are currently running several AW tests which are available to all visitors to our site, one is specific to Kempton and is looking to profit from losers. So far this system has been showing great promise. Another, unusually, covers all AW courses and is looking to back BSP favourites. This can cause some confusion because the favourite before the off can be different to the BSP favourite (this happens with SP as well).
One of the features of the Grey horse Bot is that it can identify the BSP favourite (which is announced as the race goes in running) and accurately follow the correct selection.
So if you decide to have a look at the all-weather courses then remember if you concentrate on just one at the start you will have a better chance of finding a strategy that works.
For a selection of Betting Apps for Betfair.com please see the Betfair App Directory.