Black Friday: Prepared by PLO
Poker News

/ Short-Stacked Shamus / 29 April 2011 / Leave a Comment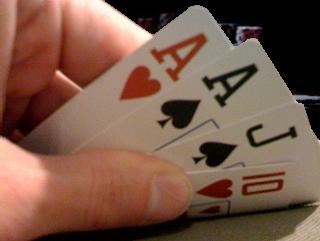 It has been two weeks since I've played a hand of online poker for real money. I did sit down for a couple of play money sessions here and there over the last few days. For example, the other night I managed to be the bubble boy in a 100-plus player multi-table tourney, finishing 13th when the top 12 spots paid.
I didn't cash, but then I suppose even if I had won I wouldn't have cashed. (Insert frowny face.)
As an American whose only online poker accounts were on sites targeted by the "Black Friday" indictments and civil complaint unsealed on April 15, I am presently having to do without online poker. I have begun to explore some of the other, still available sites and will perhaps before too long make the not-insignificant effort to get some funds into an account and get back into the game. But for now, like a player who is "card dead" and enduring a sequence of unplayable hands, I am having to be patient.
The game I miss the most is short-handed, pot-limit Omaha, a game that even if I lived in close proximity to live poker (I don't), I probably would not be able to find that easily, either. Over the last couple of years, I'd probably spent at least 80% of my time at the online tables playing 6-max. PLO, a game I've found much more engaging than no-limit hold'em.
While I remain a "recreational" player -- perhaps more serious than most, though hardly a threat to move up to professional status -- I did learn a little something about PLO strategy while playing those thousands of hands online. Reading Jeff Hwang's books on PLO (reviewed here) helped a lot, too.
I realized this week how some of the lessons I'd learned from PLO could be said to have application to "Black Friday" and its aftermath, at least in terms of being an online poker player in the U.S. and having to deal with the sudden unavailability of my favorite sites. Here are three ways you might say PLO has helped prepare me to deal with the current state of affairs.
Learning to Read
When it comes to evaluating starting hands, new PLO players generally have a much steeper learning curve than do those playing their first hands of hold'em. Sure, the NLHE newbie may not realize at first how suited connectors can become big profit-makers if played effectively, but for the most part it isn't that difficult to recognize big pairs and Broadway cards make for good starters in hold'em.
By contrast, evaluating starting hands in PLO is a more complicated matter. Here, too, some of the best ones -- like A-A-J-T double-suited -- might be obvious even to new players. But it usually takes novices a while to learn that starting with a couple of aces isn't always the cat's pajamas in PLO. Or that run-down hands like J-T-9-8 have great potential, too, especially when suited/double-suited or played from a positional advantage.
Starting with four cards means you have six different two-card combinations to choose from to make a hand -- as do all of your opponents. And since it is often the case that multiple players (i.e., more than two) see flops in PLO, the range of possibilities following a flop is much wider in PLO than in NLHE, making it more challenging to "read" the significance of players' subsequent actions.
"Black Friday" took many by surprise, but now we find ourselves looking back at all of the potential signs perhaps indicating the Department of Justice was about to suddenly "raise the pot" (so to speak) and force the largest online sites in the U.S. to "fold."
The arrest of payment processor Daniel Tzvetkoff last spring, the sudden uptick in legislative machinations on both state and federal levels to regulate online poker, and the announcements of those partnerships between the sites and land-based casinos all now appear as related bits information. Put together, they seem now both to suggest something about the strength of the DOJ's hand and that (from the feds' perspective) "slow playing" was no longer an option.
But like a PLO hand, it was a complicated situation, hard for many to "read" and understand definitively.
Dealing with Swings
For various reasons, PLO tends to be a more "swingy" game than other varieties of poker, with a higher "variance" that often translates into sudden changes to one's stack size, overall bankroll, and/or peace of mind. For some, this aspect of PLO makes it a more fun game to play, more likely to get the adrenaline pumping than saving an extra bet in a fixed-limit game or lots of folding in NLHE might.
Just as reading hands and situations in PLO can provide a special intellectual challenge, handling those head-spinning highs and precipitous plummets can present a psychological challenge to players, too. Most frustrating for me would be sessions that would begin with a hundred well-managed hands during which I'd slowly but satisfyingly chip up to improve my stack by a buy-in or more, only to be suddenly felted in one of those all-but-impossible-to-avoid coin-flip situations that will come up now and again in PLO.
When such misfortune occurred, I'd try to remember the flips I'd won -- or those hands when after getting it in as a huge dog I'd luckboxed my way into some undeserved success. I also developed other means by which to improve my perspective on big wins or losses and become less emotionally affected. And the more I played, the more I was able to "embrace the variance" (as Deuces Cracked instructor bellatrix recommends)
It should be obvious how this kind of mental training to handle abrupt changes in fortune comes in handy in the face of an event like "Black Friday." I'm one of many who have been affected in ways that go beyond the temporary lack of a game to play. But using my experience with PLO as a guide, I step back and recognize how rapidly things have changed in poker over the last several years.
"Black Friday" was certainly an especially big pot to lose, but if recent history is any indicator, there will be more big pots, I'm sure.
Thinking Ahead
As a "post-flop" game, PLO requires one to think beyond those initial preflop raises to prepare oneself time and again for multiple decisions on subsequent streets. As Jeff Hwang points out in Pot-Limit Omaha Poker: The Big Play Strategy, PLO "is very much an implied-odds game," especially when played deep-stacked. In other words (suggests Hwang), it is often best to keep in mind that in PLO, really, "every hand is a drawing hand -- including AA hands."
I know from my own experience with PLO that whenever I felt as though I was playing my "A-game" I was consistently doing a good job thinking beyond what was happening preflop to anticipate how I'd be responding to various community cards and opponents' actions after the flop. A stronger player or strategist could probably better articulate what I'm trying to say here, but there's a "rhythm" to PLO to which I sometimes felt especially attuned, and getting to that point often involved focusing more on potential developments than the current situation.
By the same token, I knew I was off my game whenever I fell into what might be called a "made-hand mentality" wherein I was too preoccupied with making (say) my flopped top set stand up than considering the larger picture -- i.e., one that included dealing with the consequences of the turn and the river!
Again, I'm going to try to apply this ability to look ahead when assessing the current situation faced by U.S. players. Some observers have already begun to describe how the events of the last two weeks may in fact prove beneficial in the long run when it comes to those ongoing efforts to license and regulate online poker in the U.S. While I'm too much of a cynic to be overly optimistic, I can appreciate the importance of thinking about the "big picture" and not getting too wrapped up in how lousy a hand we've just been dealt.
PLO is a complicated game. So, too, is the "game" surrounding the future of online poker in the U.S., a game made even more complex thanks to the many political, cultural, and economic forces affecting how it gets played. (Or not.)